Parents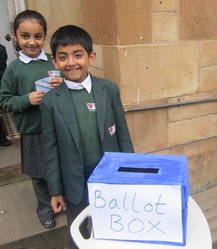 September 2014 Referendum
Your child is the most important part of your life. Ensuring your child is being taught in a safe and secure environment while protecting their belief is every parents aspiration.

We assure parents that Inshallah their child will enjoy being part of Al-Qalam Primary School. Learning by experience gives every child the opportunity to enjoy activities within various contexts of life.

Pupils get to learn by experiences. Carefully selected context allows staff deliver stimulating topics and relate it to their personal development.

Active learning strategies are fun and trips to exciting places makes learning a joy.
---
---
---
Parental Involvement
Parents R Us
The school is blessed with active and supporting parents. PRUS activities complements the excellent work staff do at school. A strong School-Pupil-Parent bond is an important part of your childs development. At Al-Qalam Primary School we provide opportunities for parents to participate in various supporting role including fund raising, organising events and other outdoor activities.

Dads coffee meet, Parents BBQ, Annual Fund Raising event, P7 Enterprise project are some of the highlights of PRUS.

---
Support for Parents
The school is pleased to announce that some brothers are willing to offer Qardh-al-Hasana (interest-free loan) to parents who wish to send their children to Al-Qalam Primary School but due to financial constraints could not manage to pay their fees on time.
Qardh-al-Hasana allows parents to borrow interest-free loan for an agreed period of time. Terms & Conditions apply. The loan amount is returned back to the lender without any interest or charges. Approval of loan will be entirely at the discretion of the lender.
​For further information contact the school. Click
Here
- Who is he that will lend to Allâh a goodly (interest-free) loan so that He may multiply it to him many times? And it is Allâh that decreases or increases (your provisions), and unto Him you shall return.. [Al-Baqarah (2): 245]
-If you lend to Allâh a goodly loan (i.e. spend in Allâh's Cause) He will double it for you, and will forgive you. And Allâh is Most Ready to appreciate and to reward, Most Forbearing, [ Al-Tagabun (64):17]
-The Sunnah of the Last Prophet Muhammad(s.a.s) is also very clear on this issue. It is reported that the Prophet (Peace Be Upon Him) said, "in the night of the journey, I saw on the gate of heaven written, 'reward for sadaqah (charity) is ten times and reward for qard al-hasan (interest-free loan) is eighteen times'. So, I asked the angel, how is it possible? The angel replied, "Because beggar who asked had already had something but a loanee did not ask for loan unless thy was in need." [Ibn Hisham & Ibn Majah].